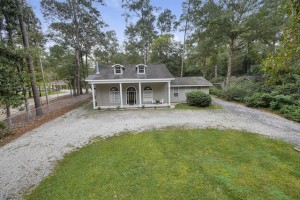 This is the place we now call home.  It is a place I have long dreamed of finding.  It's called Acadian style, but I think it isn't….not quite.  But it does fit into the "French" feeling of our area in many ways.  I'm going to show you different aspects of the house, before and after, as we pull things together and make this wonderful place our forever home.  I wake up each day and say a simple "thank you" to God and to our wonderful realtor, Jeri Creson.  This house is living proof that miracles can occur, if you work hard enough and stay on course.  So….here is a before picture of the dining room.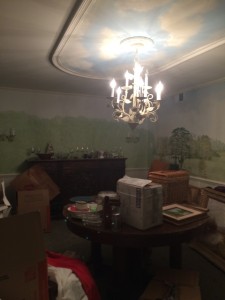 Boxes are everywhere!  We finally have moved everything out of storage and are working on three projects.  Save and place….store in attic….put aside for HUGE yard sale.  When we moved to Louisiana we also moved my parents.  We are combining two whole houses….full of STUFF!  I'm throwing out and simplifying.  But I love this room!  I fell in love with it the first day I walked through the door.  You need to know that this is a home that began as a two bedroom, cinder block, ranch style home built in the 1960's.  It's a bit quirky, which I like.  It is not a cookie cutter house in any way.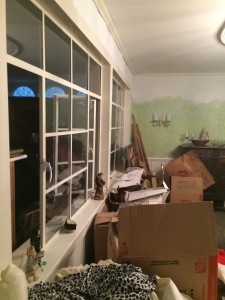 Here is why I refer to it as a bit "quirky".  This wall of windows was the original front of the house.  The decision to leave them is one I applaud.  I also love the mural that wraps around the room.  The former owner used a mural as well as her own hand painting to achieve the pastoral scene.  She also painted the oval inset in the ceiling like a sky with clouds.  I love it.  I love the chandelier….did I say I love this room?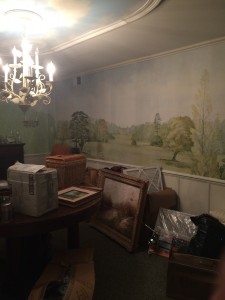 I'm showing you the before so you can be "wowed" by the after in a week or so.  We're busy unpacking, hanging artwork, which this room needs little of, but a bit here and there.  It is a delight to go through boxes that have been stored for over a year.  It's almost like Christmas.  And I found a wonderful product, thanks to Mr. T.  "Restor-a-Finish".  The movers in Georgia did a number on our antique dining room table.  I purchased a bottle of this product at our local Home Depot and highly recommend it to improve the surface of any wood furniture that has knicks and scratches.  The table is now an oval since adding a leaf and we celebrated our first family dinner around it last night.  I am loving life in Louisiana!
2 Responses
Marisa Franca @ All OUr Way Says:


Can't wait to see what you do with it! Have a great day!
Leave a Comment