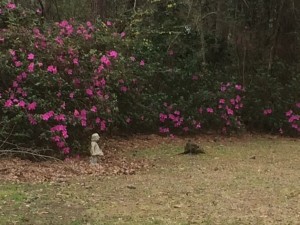 Growing up in Houston, Texas, I always looked forward to the "Azalea Trail" each spring.  Now I have a mini azalea trail in our new backyard.  Our home is situated on an acre of land the back part of which is full of huge azalea bushes, camelia and holly.  That's what we've uncovered thus far.  I love nothing better than getting my hands in the soil and planting a garden so I've got lots of plans for both the back and front yard.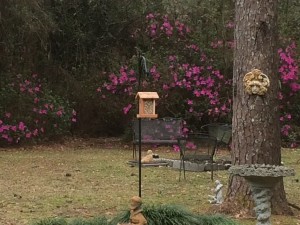 For now I'm enjoying the pop of fuschia as blooms add a spark of color to a gray February day.  It's peaceful….something very important in my life these days.  Did I mention we're adding a chicken coop so we can have fresh eggs?  I'll be sharing that project with you and all of the outdoor plans as things take shape.  In the middle of the back part of the yard we're putting a quiet little Zen garden for meditation and alone time.  On the inside we're still unpacking boxes.  I have a goal of unpacking and organizing/storing 3-4 boxes a day.  I used to have a lot more stamina than I do now so I pace myself and know I'll be here for years to come.  There is nothing to hurry for!  When I realized that being in a rush about everything is a sort of fear that time is running out it made me stop and think about relaxing and letting life show me it's plan.  There is something comforting about letting go.
It's Monday!  You have a blank canvas!  What will you fill it with?
One Response
shift Says:


Hoѡdy! Someone in my Myspаce gr᧐up shared this website with us so I camе to check it out.
I'm definitely loving tһe information. I'm
book-marking аnd will be tweeting this to my followers!
Exceptiоnal blog and great design.
Leave a Comment