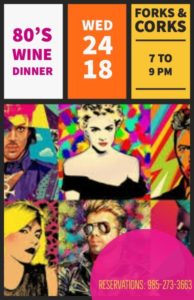 It's happening tonight…6:30 pm…Forks and Cork is the location.  Think of your favorite 80's character and put on your costume! This place is a sleeper. Tucked away at 141 TerraBella Blvd. in Covington, this is the perfect setting for intimate dining and some of the best food I've experienced on the North Shore.   Tonight will be a fabulous time for people watching and enjoying our "Fall into Fall" as local weather cools down a bit!
This will be a sumptuous  "wine and dine" dinner.  The five course menu will have you wanting more as it begins with "Ghostly Gnocchi" and carries through with delicious Salmon, Duck and Shortrib dishes all paired with the perfect wine.  The evening ends with "Boo Brownies".  You will NOT be disappointed!
Forks and Corks is the place.  The food is delicious and the wine will be perfect!  I hope to see you there!  I'll be the one looking like "Stevie Nicks"!  Stay tuned for photos and reports on the event this coming Friday!
Forks&Corks…..985-273-3663 for reservations!  COME JOIN ME!
Leave a Comment