As the weather cools off festivals and concerts begin to pop up all over the North Shore and New Orleans area.  People meet in throngs to celebrate the gentle lake breezes and enjoy wonderful music and food.  Last Saturday night was no disappointment as we met friends for the Louisiana Philharmonic Halloween concert.  We loved hearing the famous music of Saint-Saens, among others.  Thousands of locals congregated at the band shell on the banks of Lake Pontchartrain sharing picnics, wine and joy.  It reminded me of my New York City days when we always met friends in Central Park for the amazing concerts there.  One thing I love about this area are the similarities I find to bigger city living.  And the fact that everyone is always ready to celebrate….even for no reason!  But at this event it was all about witches, goblins and all things Halloween.  Skylar took the video you see above.  It will definitely give you a sense of the spirit of the evening.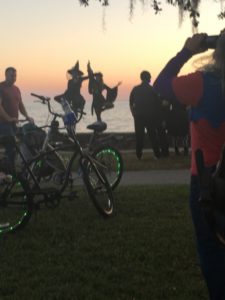 I couldn't help taking a photo of two witches posing on the wall that borders the shoreline.  I would love to have included shots of the Louisiana Philharmonic as they played….way too crowded to even get close.  So we sat back, visited with friends both expected and unexpected!  It's always so good to run into people you haven't seen for months.  The festival atmosphere of the evening was wonderful!  Cool breezes….good red wine….cheese from Acquistapace and a lovely evening of fun and merriment!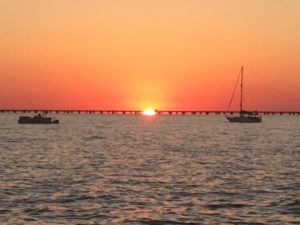 As we packed up to leave the sun was setting on the western horizon of the lake.  Sailboats lazily rocking in the water made me wish I were on board.  What a beautiful place this is.  I never cease to be enchanted by the culture and history as well as the spirit of the people who call this home.  I've been here for three years now.  Not the easiest of times but every day gets a little better and I fell a bit stronger.  I'm learning that time is the only healing balm for sadness.  Have a wonderful Halloween this evening….wherever you may be!  We'll be with friends celebrating the evening and the season.  Fall has arrived and not a moment too soon!
Leave a Comment