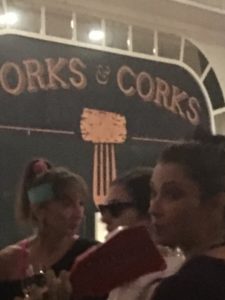 Forks & Corks….the scene of a fabulous 80's Halloween Five Course wine tasting dinner on Wednesday evening. Guests arrived in the finest 80's costumes.  Even "Ronald Reagan" made an appearance, shaking hands as he worked the room!  If you haven't experienced the culinary magic of Chef Austin 'hoss' Blaise then make a reservation and enjoy a real treat…no tricks involved.  I'm featuring some photos from the evening as well as the food.  So let's begin!
Halloween vignettes filled the main part of the restaurant….fog machines and all to provide a ghostly feeling for this very special evening!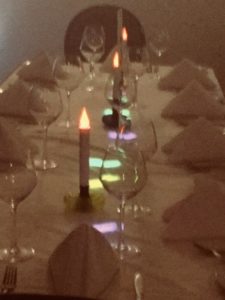 Tables beautifully set waited for the evening's guests to arrive.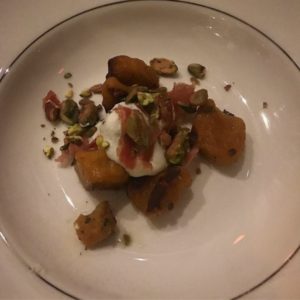 We began the evening with a delicious "Ghostly Gnocchi".  The dish featured handmade pumpkin gnocchi with a generous dollop of mascarpone, pancetta lardons, toasted pistachio nuts and fresh sage.  Each bite was filled with the distinct flavors of Fall, a perfect combination of textures and, of course my favorite, pistachio nuts!  Served with a crisp Landmark Chardonnay the festivities began.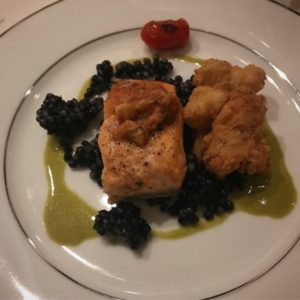 Next up, "Spooky Salmon".  Olive oil poached salmon with crispy rock shrimp, squid pasta pearls, charred garlic and tomato confit with fresh basil butter….foodie heaven!  Not only beautiful to look at, the dish was a hit!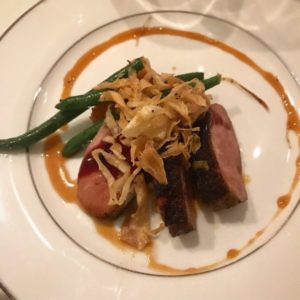 A "Demonic Duck" dish followed, but I would think of a more heavenly name!  The flavors of this amazing entree did not disappoint.  Molasses cured duck breast served atop sweet potato pave with blackberry compote and chipotle gastrique.  This dish was probably my favorite of the evening, but it would be hard to say.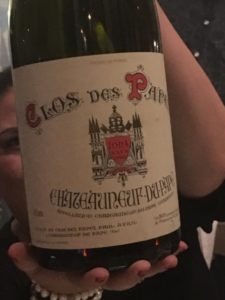 This amazing Chateauneuf du Pape helped bring the flavors alive, enhancing the molasses flavor of the duck breast….c'est magnefique!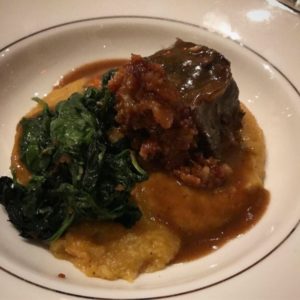 This divine beef dish named "Scared Sh**tless Shortribs" completed the entrees for the evening.  Braised in Guiness Stout, the shortrib was placed atop a serving of roasted butternut squash polenta with bacon-red onion marmalade and wilted spinach.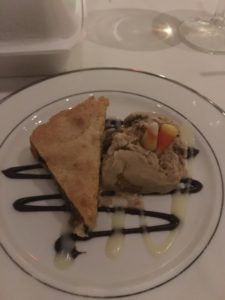 Yes, I did manage to save room for dessert!  "Boo Brownies" provided the perfect ending to this lovely five course treat.  The white chocolate brownie, served with a scoop of dulce de leche gelatto made my heart sing!  I definitely had a clean plate after this delectable course.
I highly recommend this delightful dining destination.  With it's lovely ambience and friendly, knowledgeable staff, it's a winner .  Located at 141 TerraBella Blvd. in Covington, this could very well become one of your favorite spots for date night or any occasion.  Owner, Osman Rodas, our host for this wonderful evening, also owns Pardos American Bistro, soon to open in its new location and Pepe's Mexican Kitchen in downtown Covington.   We hope to have news for you soon as we begin scheduling podcasts and video taping in December.  These restaurants will certainly be on our list of the best places to eat on the North Shore.
For reservations, please call:  985-273-3663
4 Responses
Leave a Comment