I heard about Claudia Lynch from a mutual friend shortly after moving to the New Orleans area.  I will never live down the fact that I am an avid collector of shoes.  I would be embarrassed to share with you the count or the number of boxes containing shoes that were involved in our move.  I love the color, the shape, the style, the smell of leather…..ok…..I'm a shoe fanatic!  So when I heard of this amazing woman who creates the most beautiful shoes on paper and then, wonder of all wonders, adds a clever mystery to each piece ala Sam Spade….well, I could not wait to meet Claudia!
Claudia comes from a background of theatrical costume design and bridal millinery.  Add to her list of experience graphic arts, fine arts and illustrations and you've got a woman who is so vibrant and lively you can't help but be enchanted!  She first decided to try her hand at illustrating in 2001 when the idea of creating her clever "footwear" on paper inspired her.  But it didn't stop there….oh no!  Frustrated by the fact that she wanted to see more on the page than just the shoe she decided to take a break, back off from her work and go for a bike ride.  As she rode she heard a story in her head, narrated by the famous literary mystery character, Sam Spade. Actually she heard a story for each of the three shoe illustrations that lay waiting for finishing touches.  A light went off in Claudia's head and she had her latest successful and very artful invention.  A border and her signature were added to create her first three pieces.  So taken with her designs were the first to view her work all three finished pieces were featured in the Northern Ohio Illustrators Society show that year.  Now people collect these unique works of art, give them as gifts, buy Claudia's books and her career continues to flourish.
As with most ultra creative people, Claudia doesn't just stop with shoes!  I love these cabbage headbands she has created for the most perfect St. Patrick's Day headdress.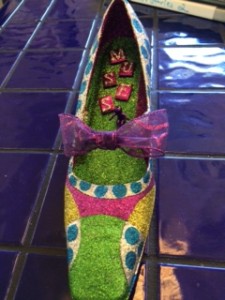 And then there are the one of a kind shoes she creates for the Krewe of Muses during Carnival Season.  If you are lucky enough to catch one of these hand designed beauties you've got something to cherish for years to come!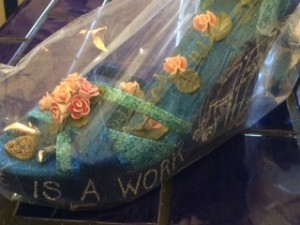 Here is another Mardi Gras beauty.  The verse so carefully inscribed on the sole reads:  "A Muses Shoe Is A Work Of Art And A Labor Of Love.".  Truer words were never spoken!
You can read more about Claudia on her website, visit her on-line store and marvel over all of her creations. http://www.shoestories.com/.  You might even want to treat yourself to her coloring book and use your imagination as you become the artist!  The darling headbands are available on her Etsy site here: https://www.etsy.com/listing/269284457/handmade-cabbage-headband-perfect-for-st?ref=listings_manager_grid.
I love surrounding myself with creative people.  The energy we are able to exchange and the ideas that flow always excite me and feed my soul.  I am thrilled to know Claudia Lynch and look forward to many good times as I continue to watch her life as an artist bloom and grow!  New Orleans is a great place to be!
Leave a Comment