It's Finally Friday and I'm back with a great recipe that is quick to make and oh so delicious!  When a family is moving it is easy to grab something from a fast food establishment or food market than to cook.  Add to that the fact that just after we moved here I underwent a full left knee replacement and that explains why I have not been posting about food very much.  I was concerned about gaining weight while off my feet but the opposite has happened.  I'm feeling better and more fit than I have in a very long time.  So I'm back in the kitchen, getting creative and coming up with recipes I think you'll love!  Today's recipe works as an easy weekend meal that even guests will love!  Pair it with a cold Corona and you've got it going!
Black Bean Enchiladas
Makes 10 enchiladas
1 package of white corn tortillas
1 can organic black beans, drained and rinsed
1 fresh, red bell pepper chopped
1 sweet onion finely chopped
1 clove garlic, peeled and finely minced
2 tablespoons extra virgin olive oil
1 teaspoon ground cumin
1 tablespoon good quality chili powder
salt and pepper to taste
2 cans "Hatches" Green Chili enchilada sauce
3 cups shredded Colby Jack cheese
Preheat the oven to 350 degrees
Heat the enchilada sauce in a pot until just simmering.  Heat the olive oil in a medium size skillet over medium heat and add the onion, cooking until it is just transparent.  Add the chopped bell pepper, rinsed black beans and garlic and heat through.  Grease an oblong pyrex or other pan and pour 1/2 cup of the enchilada sauce into the bottom and spread to cover.  Take one tortilla and dip it into the remaining sauce to soften it.  Place it in the baking dish and spoon the black bean mixture  down the middle and sprinkle with a bit of cheese.  Gently fold one side of the tortilla over the other and place seam side down in the baking dish.  Repeat this method until you have made 10 enchiladas.  Pour the remaining sauce over the enchiladas and sprinkle the rest of the shredded cheese over the top.  Cover with foil and bake for 30 minutes.  Uncover and back for ten more minutes, the cheese will be melted and the sauce should be bubbly around the sides.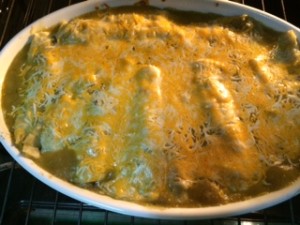 Guacamole Salsa
2 large, ripe avocados
1 bunch of scallions finely chopped, including the green ends
1 clove garlic, peeled and finely minced
1/2 cup fresh cilantro washed and chopped
juice of one fresh lime
salt and pepper to taste
Optional:
Shredded Iceberg Lettuce
Sour cream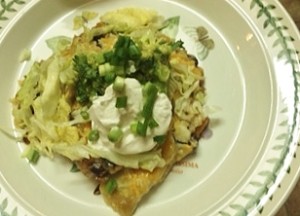 To serve the enchiladas:
Place two enchiladas on each plate.  Top with shredded lettuce then guacamole salsa and sour cream.  Serve with tortilla chips if desired and don't forget that icy cold beer!  Enjoy!
Leave a Comment