I'm in Autumn cooking mode these days. I dreamed this recipe up years back and am making it again for a catering event I have tonight. It's a savory cheesecake, nothing sweet about it. But it is so incredibly delicious! This recipe is in my newly published cookbook, "Seasoning…Saucing…Savoring", available on Amazon HERE!: https://www.amazon.com/Seasoning-Saucing-Savoring-Food-Good-ebook/dp/B07D3D8XDH/ref=sr_1_1?s=furniture&ie=UTF8&qid=1539285620&sr=8-1&keywords=SEASONING…SAUCING…SAVORING+BY+MELISSA+LEE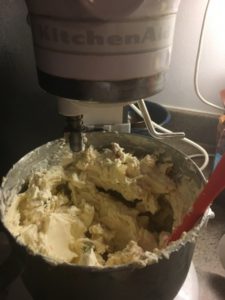 SAVORY ROASTED PEPPER CHEESECAKE
Preheat oven to 350 degrees
For the crust:
1 1/2 cups graham cracker crumbs
1 tsp. Sangre de Cristo Mexican Seasoning ( available at https://sdcspice.com/)
1 tsp. Sangre de Cristo Garlic Powder
1/2 cup chopped pecans
3/4 stick butter, melted
Mix all ingredients. Grease a ten inch spring form pan with vegetable oil of cooking spray. Pat the crust mixture into the bottom. Bake at 350 degrees for 20 minutes. Remove fhe pan and lower the oven temperature to 325 degrees.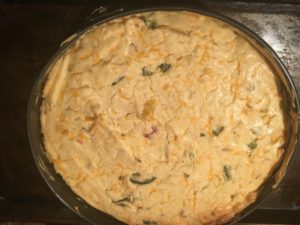 For the filling:
3 pounds cream cheese, softened and cut into chunks
2 whole eggs, slightly beaten
1/1/2 cups chopped, roasted New Mexico chilies (I found a bag of frozen, fire roasted peppers at Trader Joe's that I'm using this time…yum!)
2 cups shredded cheddar cheese
1 tablespooon olive oil
2 cloves garlic, minced
1/2 cup chopped yellow onion
1/2 teaspoon Sangre de Cristo Sea Salt
1/2 teaspoon Sangre de Cristo Mexican Seasoning
In a mixing bowl, place the cream cheese and eggs, mix until smooth with an electric mixer. Saute onion and garlic in 1 tablespoon olive oil until the onion is transparent. Add the peppers and heat through. Fold the pepper mixture and shredded cheese into the cream cheese, adding salt to taste.
Pour the cheese mixture into the prepared crust and place in a the spring form pan on a cookie sheet, adding 2 cups of water onto the tray to create a water bath. Bake at 325 degrees for 1 1/4 hours or until a knife inserted into the middle comes out clean.
This cheesecake can be made a day ahead of time and placed in the freezer for 2 hours to set completely. Remove the cake from the freezer and place in the refrigerator overnight. Warm in a 350 degree oven for about a half hour or until heated through.
2 Responses
Leave a Comment