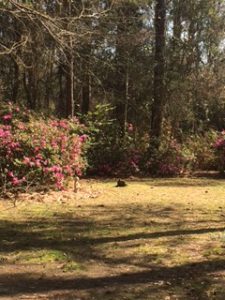 This is a very small section of our backyard.  Our home is situated on an acre of beautiful grounds that literally make one feel as though they are in a park.  The azalea bushes are mature and laden with blooms right now.  Closer to the house it is very shady.  The previous owner tried and tried to get grass to grow.  I decided not to fight it and plan to put a series of gardens in made up of local plants that thrive in the shade.  If you're a reader and you live nearby, feel free to add anything you think might add to what I'm already planning.  And, yes, there will be photographs as this all gets going!  I'm ready to get my hands in the dirt!
Here's what I'm planning:  Hosta, Maiden Hair Fern (It grows like crazy here!), Agapanthus (Lily of the Nile), Begonia, Impatiens, Caladium and my favorite, Black Magic Elephant Ears.
Stay tuned as this project gets going!  There will be many pictures and stories to tell.  You'll also get to follow as we place a "Zen" garden in the back part of our property for quiet times of meditation.
Loving life in Louisiana!  My laptop is still a bit slow and not doing what it used to do….any suggestions on the best deal on a new one are very welcome!  Happy Tuesday and thanks for following!