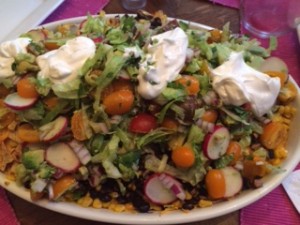 My family loves Mexican food anytime of the year.  I find the dishes I prepare during cooler months to be much to heavy in the summer.  I have created a method for building, literally, loaded nachos that will stand up to what you will find on any Mexican menu!  We love these and with loads of seasonal fresh vegetables they are so healthy!
Here's what you'll need:
Good tortilla chips, we prefer white corn chips
1 small box heirloom cherry tomatoes
1 bunch fresh radishes
1 purple onion, peeled and chopped
2 cups shredded iceberg lettuce
2 fresh jalapenos, seeded and sliced
2 avocados, peeled and sliced
1 can black beans, drained and rinsed
1 cup corn kernels, frozen or freshly cut off the cob (if using fresh you'll want to steam them lightly to soften)
1 bunch fresh cilantro
1 package velveeta shredded cheese
1 package Colby/Jack shredded
Sour Cream for Garnish
To assemble:
Place a layer of chips topped with a third of the two cheeses sprinkled on top.  Place another layer of chips with the rest of the cheese on top, Pour the black beans and corn over this and top with the remaining cheese.  Bake at 350 degrees for about 10 minutes, or until the cheese has melted.  Remove from the oven and allow to cool for about five minutes.  Top with all of the sliced veggies, fresh sour cream and serve your favorite salsa on the side!  Easy breezy and so delicious!  Enjoy!
Leave a Comment